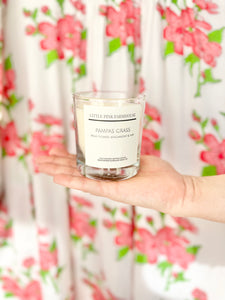 Little Pink Farmhouse Pampas Grass Glass Candle
Size - 8oz
Scent - Pampas Grass
More Details:
notes of wild flower, bergamont, and hay
coconut soy wax candle
Hand Poured in Willow Creek, Montana
About Little Pink Farmhouse:
The name "Little Pink Farmhouse" comes from Lorrie's Great Grandparent's farmhouse in Texas. The memories made there are what encouraged us to create Little Pink Farmhouse candles and bring the same feelings of warmth and welcome to your home.
All of our luxury candles are hand poured with love out of our barn studio in Willow Creek, Montana. We take great care and caution into every aspect of these candles from vessels, scents, and the ingredients we put in them.
As a family and women owned company, we take great pride in our top-notch customer service, our unmatched, luxury products that come from only the cleanest ingredients, and the immense love that goes into everything we create! We know you will become a believer in Little Pink Farmhouse, and the products we make!