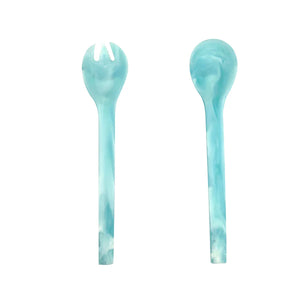 Everyday Salad Servers, Aqua
Color - Aqua Swirl 
Liven up your your home with a beautiful resin piece. All our products are designed in unique shapes and sizes that are easy to mix and match for home decor and everyday entertaining.
More Details: 
Dimensions: 11 inches
Weight: 0.30 lbs
(Sizing and weight might vary slightly)
BPA Free
Lead Free
Non Porous
FDA Approved- Food Safe
Shatter Resistant
Easy to Clean

All our products are hand crafted. Each piece is individually poured. Making every piece unique. While we aim to have every colour , shape and size consistent please understand that due to the nature of the material slight variation in colour may occur.